Travel during a week experience a wild nature and a secret patrimony …
Enjoy a one-way week to discover the patrimony, the gardens, the gastronomy and the lovely landscapes of both Sarthe and Mayenne. On schedule, visits, walks along the towpath, family activities and local specialties !
1st day :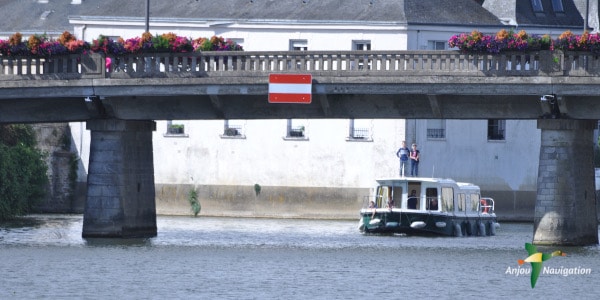 Departure at 2pm in Sablé (high speed train station only 1 km away) : boarding and training on your self drive boat. Then head toward Solesmes, a small loop perfect to get used to navigation and go through your first lock.
Solesmes
Navigation : 30min
Do not miss the visit of this magnificent abbaye, renowned for its greorian singings that you can enjoy at many times during the day.
To enjoy a panoramic view on this abbaye, take some height toward Notre Dame du Nid's chapel, reachable from the main street of Le Port de Juigné.
Pincé Sur Sarthe
Navigation : 1h30
Small village and a perfect place for a stop to stretch your legs after your afternoon of navigation !
For golf lovers, you will find halfway the Golf of Sablé-Solesmes, one of the most beautiful courses of France with its 27 holes (direct access from the river) !
2nd day :
Morannes
Navigation : 1h15
The old village of Morannes is a good place for re-stocking ! Bakery, butcher, general store are available.
Take the time to get a glimpse inside the Boule de Fort's society (the only sport that you play in slippers !)
If you don't wanna cook, go grab a meal at the Port Saint Aubin's inn, build inside an old chapel !
Brissarthe
Navigation : 1h
In this little bucolic village of Maine-et-Loire county, let the magic of the streets and the dremay borders of the river cast a spell on you. Why not try a pétanque game under the oaks, a game as easy as it is frenchy, and pleasant too ! Do not miss a visit of the XIIth century church before leaving !
Châteauneuf-sur-Sarthe
Navigation : 45min
After going through the decorated and flowered lock, why not make a stop at the marina to visit the river's museum ? You will learn how the Sarthe managed to developp thanks to the river.
For the gourmands (like us !), you can make a little detour down to Mathez Chocolate Factory and most importantly … taste its famous truffels !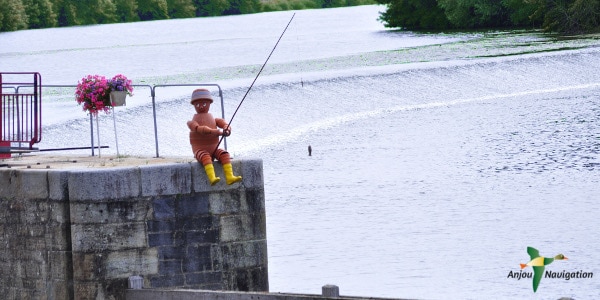 Juvardeil
Navigation : 20min
This little village was famous during the XIXth century for the building of gabares that would be up to 30 meters long.
Enjoy the finished borders of the river, a nice place to take the time to live fully your holidays.
Cheffes
Navigation : 1h
Look up to the church and resolve the enigma of the twisted bell tower !
If you are willing to take a walk, we strongly advise a little detour to visit the Castle of Plessis-Bourré, one of the few castles that kept its outside beauty and furnitures (around 30 min by bike, 1h+ by foot).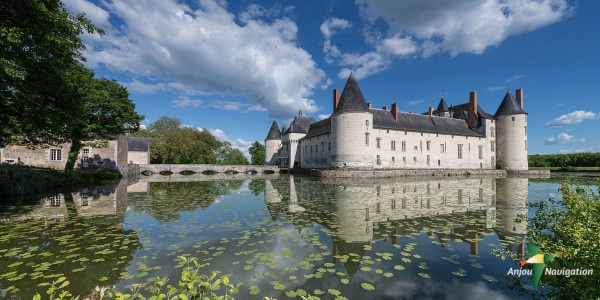 3rd day :

Emilie's advice : Leave early, there is no lock before Angers, that way you will be able to enjoy this city without hurrying !
Briollay
Navigation : 1h
You are now in the heart of a Natura 2000 area, keep your camera and binoculars at hand !
Go take a walk inside the Jardin des Fruits Rouges to gather red edible berries. Do not miss "l'Arrêt Public", a typical river restaurant settled inside an old Boule de Fort house, where many musicians come regulary to give shows !
Ecouflant
Navigation : 40min
Take a walk to the Sablières. It is a resting place where pines and sand lie around a pond : the perfect place to experience "la douceur angevine" as the locals say (a peacefull and slow state of mind, as the weather and the wine of the region). Bathing, fishing, farniente on the beach, games for children and even adventure park : there is something for every crew !
Angers
Navigation : 50min
A magnificent castle, museums, many events all year long, shops and restaurants, come discover this old city that successfully mixed its historical patrimony with a young and upbeating town center. Moor in front of the castle, the perfect starting point for your visit !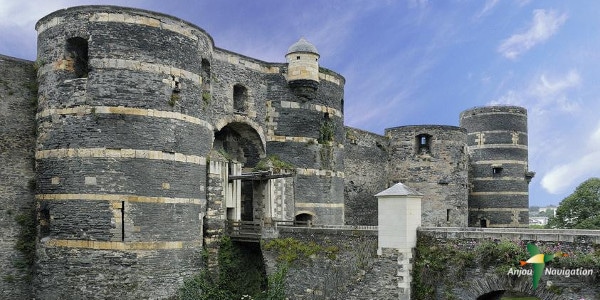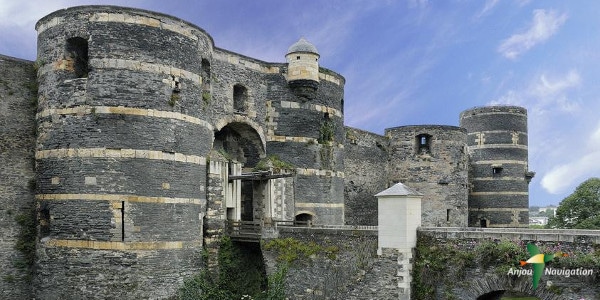 4th day :

Kévin's advice : the Mayenne river is followed almost completely by a well finished towpath : the dream spot to put your bikes and fishing rods at use !
Saint-Aubin Island
Navigation : 30min
This island, resting where the Sarthe and Mayenne meet, has a secret ! During winer, it is almost entirely covered by the waters ; which turns it the perfect spot to hike during summer in the middle of a unique and preserved fauna and flora. Moor near the ferry that allows you to get on the island (do not miss the restaurant that prepares "fouées" : a local specialty !). Or stay on the western side to walk up to Terra Botanica : a 40 ha parc dedicated to botanic, garden and everything around the vegetal. Everyone loves it !
Cantenay-Epinard
Navigation : 30min
The village of Cantenay Epinard is a stop that will allow you to wander between grasslands and hedgerows and between the two rivers, thanks to its hiking trails.
Montreuil-Juigné
Navigation : 30 min
In this "city at the campaign", you will find several fauna/flora observation posts that will please any fishing, bird or nature lovers.
Pruillé
Navigation : 1h30
The ferry of Pruillé is the curiosity of this village. There is no existing bridge crossing the village : only this device running with paddle wheels allows people to cross the Mayenne river.
Grez-Neuville
Navigation : 30 min
Secondary and historical station of Anjou Navigation, say hi to Christian that will have the pleasure to guide you on your journey on Mayenne !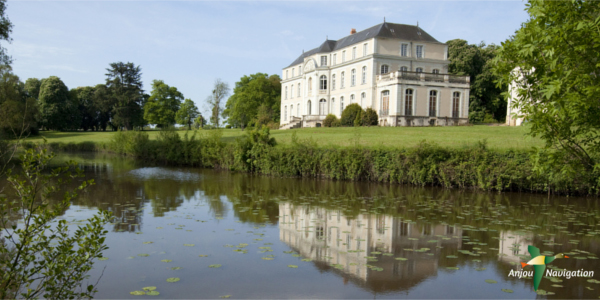 5th day :

Christian's advice : for those that are running early on your journey ; go wander on the Oudon river for a few kilometers : it has a really unique charm !
Le Lion d'Angers
Navigation : 40 min
Between the Mayenne and Oudon river, Le Lion d'Angers is the land of horses, with the national Haras de l'Isle Briand, a renowned place where horses are trained and do races. Why not come enjoy one of its many events ?
Montreuil sur Maine
Navigation : 1h
No need to walk a hundred miles ! Stop and take a look at this astounding small scaled Marian sanctuary of Lourdes !
Chenillé-Changé
Navigation : 1h
A must stop ! In this charming little village, climb the steps up to Notre-Dame du Sacré Cœur's sculpture. If not for this magnificent piece of art, this spot is worth just by the nice panoramic view you can get. Go take a look at the Château des Rues, visit the Domaine des Rues or the beautiful watermill. And do not miss La Table du Meunier, we love that restaurant !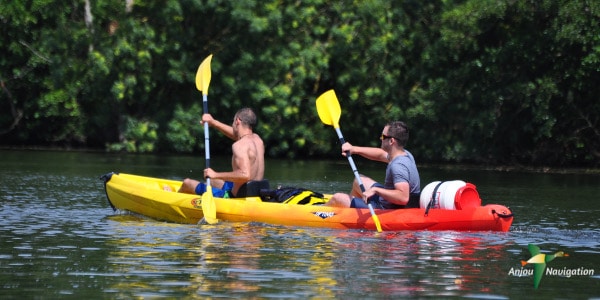 La Jaille-Yvon
Navigation : 30 min
La Jaille-Yvon is a good sporting stopover with Anjou Sport Nature. Adventure park, canoe, orientation run and many more !
Daon
Navigation : 40 min
Good place to fill up your stock while the youngest are resting near the nautic and leisure base !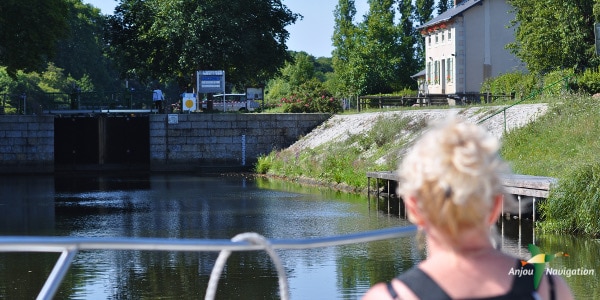 Ménil
Navigation : 1h
Knowed for its ferry crossing the river, Ménil is a charming and quiet place that you will enjoy. Do not miss in July the bread celebration and the bath race in the river. Yes, you read that right : racing in a bath is doable … Maybe crazy but doable !
Château-Gontier
Navigation : 1h15
This city, thousands of years old, is a place where life is good ! Let its patrimony and nature oriented architecture cast a spell on you. Take a look at the ancient nunnery "Couvent des Ursulines" ; stroll in the hilly streets and its many wood house ; take a walk in the "Jardin du Bout du Monde" (french for the edge of the world garden) … And do not miss the "Marché Aux Veaux" every thursday morning on the border of the Mayenne, where farmer and merchants meet to buy calfs.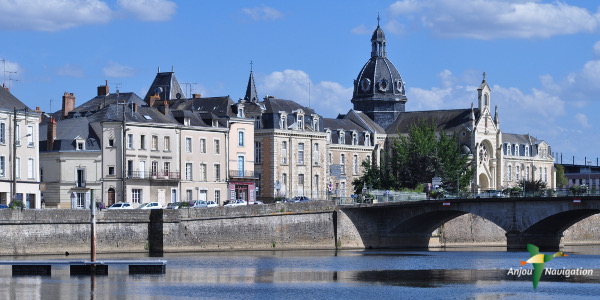 6th day :
Raphaël's advice : villages on this last part of the journey are often a bit far from the river. Consider having everything you need for the day before leaving Château Gontier !
Houssay
Navigation : 2h
Go get a glimpse on the menhir and dolmen, wondrous traces of a long time history. Keep your binoculars and camera at hand on this part to see the many manors and castles all along the river !
Entrammes
Navigation : 2h
Entrammes is a stopover full of surprises ! History lovers will enjoy the sound and light show of the old gallo-roman baths while the gourmands will go taste the Entrammes cheese at the Fromagerie Bio du Maine. And why not get a tour around the Abbaye du Port Salut (still in use !)
Guillaume's advice : fellow rock climbers, do not miss the climbing spot along the small river behind the abbaye (knowledge and equipment necessary).
Laval
Navigation : 2h
Capital city of Mayenne county and true city in the countryside, Laval is a "City of Art and History" since 1993, home of the Douanier Rousseau. Along your visit, experience the charm of its medieval center and its old castle. One last wash-house boat stands in the river, remains of the activities of the washerwomans from another time. But don't get confused : Laval is a high place of numeric industry !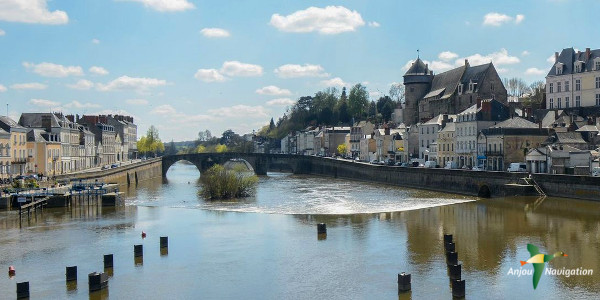 7th day :
Your week is coming to an end … a true navigator's beard is starting to grow on your face while you are beginning to speak the lingo of a true sailor ! After checking out of your boat at 9AM, take the time to visit Laval if you didn't have time on the day before.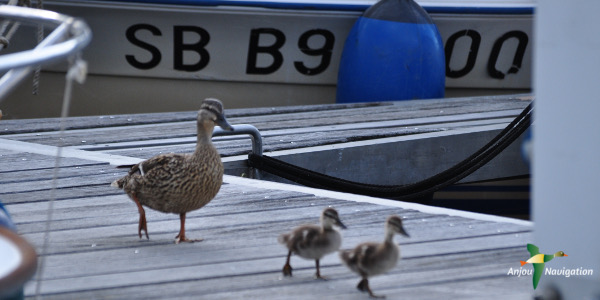 Jean's advice : this year, one way between our station are not only free, they are also really easy as high speed train are linking Sablé and Laval in only twenty minutes. Do not miss the opportunity !
You are totally free on your journey's way. Choose your visits and stopovers as you please.
Enjoy the towpath that will follow you all along the river.