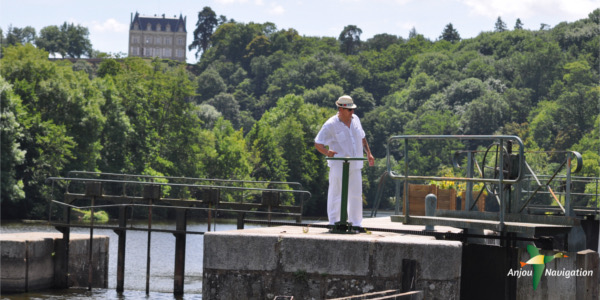 Sail away and take a few days to enjoy a wild and preserved nature !
Mayenne river and its beautiful landscapes invite you : fishing, cycling on the towpath. Take the time to discover the banks of Mayenne and the little villages of Upper Anjou. Aventures ahead !
1st Day :
Arrival at 2PM on Monday : boarding and training on your boat.
Le Lion d'Angers
Navigation : 40 min
Between the Mayenne and Oudon river, Le Lion d'Angers is the land of horses, with the national Haras de l'Isle Briand, a renowned place where horses are trained and do races. Why not come enjoy one of its many events ?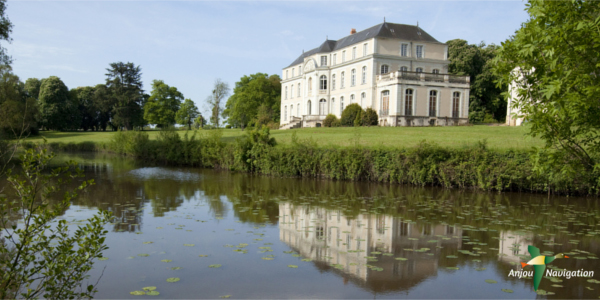 Montreuil sur Maine
Navigation : 1h
No need to walk a hundred miles ! Stop and take a look at this astounding small scaled Marian sanctuary of Lourdes !
2nd day :
Chenillé-Changé
Navigation : 1h
A must stop ! In this charming little village, climb the steps up to Notre-Dame du Sacré Cœur's sculpture. If not for this magnificent piece of art, this spot is worth just by the nice panoramic view you can get. Go take a look at the Château des Rues, visit the Domaine des Rues or the beautiful watermill. And do not miss La Table du Meunier, we love that restaurant !
La Jaille-Yvon
Navigation : 30 min
La Jaille-Yvon is a good sporting stopover with Anjou Sport Nature. Adventure park, canoe, orientation run and many more !
Daon
Navigation : 40 min
Good place to fill up your stock while the youngest are resting near the nautic and leisure base !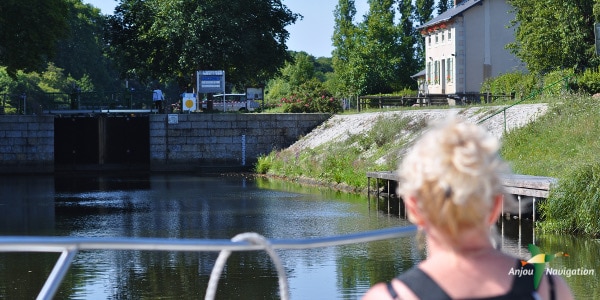 Ménil
Navigation : 1h
Knowned for its ferry crossing the river, Ménil is a charming and quiet place that you will enjoy. Do not miss in July the bread celebration and the bath race in the river. Yes, you read that right : racing in a bath is doable … Maybe crazy but doable !
Château-Gontier
Navigation : 1h15
This city, thousands of years old, is a place where life is good ! Let its patrimony and nature oriented architecture cast a spell on you. Take a look at the ancient nunnery "Couvent des Ursulines" ; stroll in the hilly streets and its many wood house ; take a walk in the "Jardin du Bout du Monde" (french for the edge of the world garden) … And do not miss the "Marché Aux Veaux" every thursday morning on the border of the Mayenne, where farmer and merchants meet to buy calfs.
3rd day :

Raphaël's advice : villages on this last part of the journey are often a bit far from the river. Consider having everything you need for the day before leaving Château Gontier !
Houssay
Navigation : 2h
Go get a glimpse on the menhir and dolmen, wondrous traces of a long time history. Keep your binoculars and camera at hand on this part to see the many manors and castles all along the river !
Entrammes
Navigation : 2h
Entrammes is a stopover full of surprises ! History lovers will enjoy the sound and light show of the old gallo-roman baths while the gourmands will go taste the Entrammes cheese at the Fromagerie Bio du Maine. And why not get a tour around the Abbaye du Port Salut (still in use !)
Guillaume's advice : fellow rock climbers, do not miss the climbing spot along the small river behind the abbaye (knowledge and equipment necessary).
4th and 5th day :

Christian's advice : for those ahead of the schedule, you can go up to Laval or make a little detour on the Oudon, little river with a singular charm !
Back to Grez-Neuville. We are waiting for you at 10AM on Friday for key return, leaving you the opportunity to spend the last night out of the marina !
You are totally free on your journey's way. Choose your visits and stopovers as you please.
Enjoy the towpath that will follow you all along the river.