Immediate boarding for 4 days in the heart of the Sarthe Valley.
Nature, history, sport and discovery : the Sarthe valley has everything to please you ! Get a glimpse on your adventure awaiting …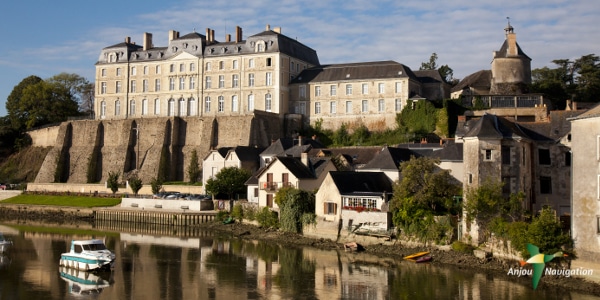 1st day :
Arrival on Monday at 2PM : boarding and training on your boat.
After 30 minutes of navigation : go through your first lock near Solesmes.
Solesmes
Navigation : 30min
Do not miss a visit of this stunning abbaye, renowned for its altarpieces and gregorian singings that you can here regularely and everyday.
Also, enjoy during the week end the art gallery "La Galerie du Chemin".
To enjoy a panoramic view on this abbey, get higher up to Notre Dame du Nid's chapel ! You can reach it from the main road of Port de Juigné accross the abbey.
The word of Bernard : do you know the secret of the scultpure that gave its name to this chapel ? By carving the wood, the artist found a node shaped like an egg. He kept it and sculpted its piece around this feature !
Juigné sur Sarthe
Navigation : 10 min
Lovely little village hangingon top of a hill along the Sarthe's Valley. Charming walks to do around the village to enjoy the old and preserved architecture ; thanks to the inhabitants' work.
From the lock, you can gain access to Terre Activ' leisure base that offers many activities as well as some beverage and ice cream ! Kayak, orientation run, treasure hunting or the astounding Fun Archery, Segway etc … Experiences for everyone !
2nd day :

Raphaël's advice : on your way up or back, you should try Fun Archery : an unusual team activity mixing paintball with archery !
Avoise
Navigation : 1h30
In this pretty hilly village, take a look at l'Oeil dans le Rétro to have a drink, surrounded by old vintage caravans on the Sarthe's banks.
Avoise is also a good starting point for a walk or a bike ride toward the medieval village of Asnières Sur Vègre (4 kilometers).
In this small typical village along the Vègre, do not miss the Manoir de la Cour and its story of the valley, the wall paintings of the Saint Hilaire Church or the Mosaïque Garden on the top of the village. Wander in the old streets of yellow stones and enjoy the picnic and play areas on the banks of the Vègre river.
Parcé sur Sarthe
Navigation : 30 min
Parcé is another soothing typical village, directly on the Sarthe river this time ; allowing an easy visit of this little city built around its church.
From your boat, do not miss the view on the Château de Pecheseul.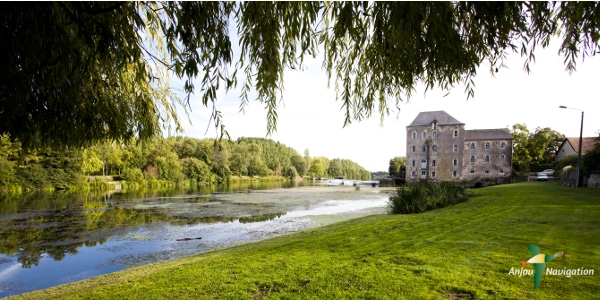 Dureil
Navigation : 1h
Nice deck settled in nature, in this tiny village hidden in the forest.
Malicorne
Navigation : 50 min
City of Art and History, always full of life !Get a glimpse on the castle, push the door of the old mill that is now hosting an exibit for local artists.
By the way, Malicorne is primarily famous for its art ceramics !
You can shop some at "Les Faïenceries d'Art" but most importantly do not miss the Museum ! Learn the history and process of this demanding form of art and try your talent at the Barbotine space where everyone can experience the clay molding !
3rd day :
Noyen Sur Sarthe
Navigation : 50 min
Stock up in this village that hosts many shops as a bakery, butchery, general store etc … And get a handfull of serenity walking on the dedicated spaces along the river !
Fercé sur Sarthe
Navigation : 1h10
Get back in time in this tiny village : take a look at Saint Pierre's church and its altarpiece !
La Suze sur Sarthe
Navigation : 40 min
Good starting point for cyclist willing to visit the Château de Vilaines in Louplande (8km), a XVIIth castle with a remarkable indexed garden.
And for those that want to keep their feet in water, why not enjoy the pool of the city ?
Emilie's advice : Ben et Suzette, a few steps from the decks, we love it : crepes, pizzas, salads in a lovely surrounding !
Fille sur Sarthe
Navigation : 1h40
A must see : the island of Ile Moulins'Art !
Discover it by walking on the paths of this surprising place. A small island where strange outside exhibits are right next to a "guinguette" (typical kind river-restaurant), nautic sports and playgrounds along a restaured watermill. Push its door to visit the pedagogic exhibit on the creation of electricity and flour with waterflow (flour that you can even buy !).
Do not hesitate to ask us the schedule of the many events of the island !
Spay
Navigation : 30 min
THE stopover for family activities !
Enjoy the Domaine du Houssay, a 40ha parc with swimming areas and many activities : paddle, pedalboat, mini-golf, etc …
Do not miss the Spaycific Zoo, a small zoo rnowned for … well its spaycific species !
4ème et 5ème jour :

Jean-François's advice : this guide is subjective regarding time and visits : keep a few things to do on the way BACK !
Heading back to Sablé ! We will wait for you at 10AM on Friday for the key return ; we are eager to hear how was your journey !
You are totally free on your journey's way. Choose your visits and stopovers as you please.