Nicols Octo Fly 12 riverboat
(Fly range)
comfort :

Booking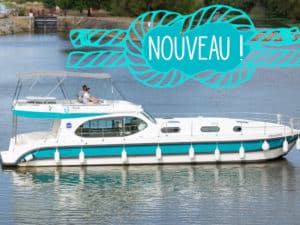 Features
2 (double bed) cabins and 2 (double bed + single-person bunk bed) cabins
Convertible in the living room
Equipped kitchen
2 shower cabins
2 electric toilets
200L fridge/freezer
Dual steering : inside + outside
Fly + Downstair terrace
Ground level access + side doors
220v Shore power plug
Bow and stern thrusters
Dimensions
14,95m x 3,85 m


(Longueur x largeur / Length x width)
Nicols Octo Fly 12 : the new jewel of the fleet !
Nicols Octo Fly 12 departure from Sablé Sur Sarthe :
Weekend cruise are available at 4PM (ex 2 days WE : Friday departure 16h00 return Sunday 18h00). Late arrival possible.
Weekly cruise are available at 2PM, return at 9AM 7 days later.
Nicols Octo Fly 12, new addition to Anjou Navigation's fleet !
The biggest of our boat, with a 15 meter length, sheltering a crew of up to 12 persons. On board : 4 cabins (2 of them also equipped with a single-person bunk bed) alongside two bathrooms with real shower cabins.
On the rear side, alongside its spacious living room and the sheltered back terrace, let's not forget the new Fly outside space upstairs : wide and equipped both with lounging chairs and BBQ. Right next to one of the navigator's station, so that the captain can enjoy moments with the rest of the crew easily.
For a peaceful navigation, the Nicols Octo Fly is equipped (alongside its main engine) of a bow and stern thruster to manoeuver both the front and back of the boat easily !
You will enjoy :
its high crew capacity
fully equipped inside and outside spaces
easy manoeuver with both thrusters
real cabin showers like at home
a reinforced insulation for everyone's comfort
Availible in Grez Neuville
One way possibilities toward Sablé sur Sarthe
Try the river experience in the Nicols Octo Fly :